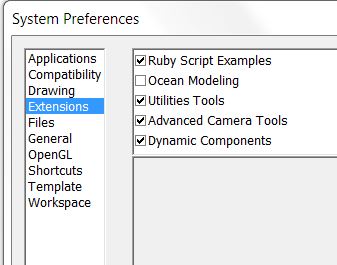 If you are using SketchUp Pro or Make 2014/ 2015/ 2016/ 2017 and do not see a Extensions menu in the SketchUp pull-down menu area, go to SketchUp Extension menu, and install a free Extension. Here is one that we recommend that will require the Plugins menu. Simplify Contour Tool. To use Extension Warehouse you must Sign In and to do that you need to have a 3D Warehouse Account. Once you have Signed in, use the Search and type in Contour. The Simplify Contour Tool will show up in the search. Install this extension. This will be accessed from the SketchUp Plugins menu and will force SketchUp to display the plugins menu.
Alternatively, if you can not or do not want to access the Extension Warehouse, download Make Fur from the Download page and install Make Fur .rbz. This will force the SketchUp plugins pull down menu to display which will then show the SU Podium V2.x pull down menu.
Then reboot SketchUp. This action will activate the SketchUp Plugins/ Extensions menu which is needed for SU Podium.
---