Automatic Materials can be toggled on and off in the SU Podium Options dialog under the Environment Tab.
When Automatic Materials is on, SU Podium understand that certain SketchUp standard materials will be assigned pre-defined Podium photo-realistic material properties. Using this option can save you time in applying good reflection, blurs, refraction or bump properties to materials if you are using SketchUp standard materials.
How Automatic Materials work - Only with SketchUp standard materials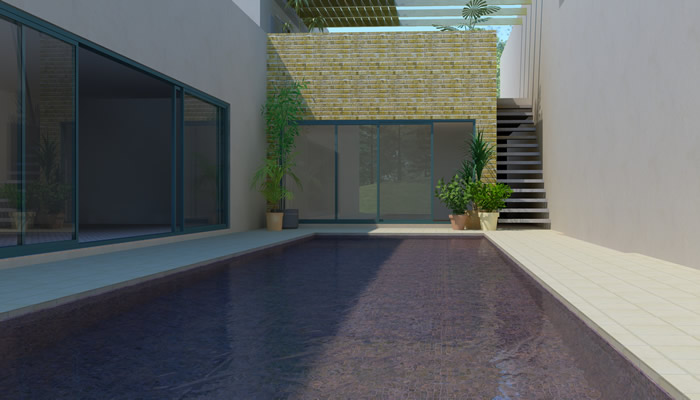 When automatic materials is on, Podium will recognize SketchUp standard material names in a model and automatically assign pre-defined reflections, blurs, refractions and bumps to these materials. The Podium properties were pre-defined by Cadalog's team of developers and testers.
The list of SketchUp standard materials that will be assigned Podium properties is in the materials.csv file which is located in the SU_Podium_V2 \preset folder. However, we strongly recommend that you do not edit this materials.csv file for you may lose automatic materials.
Once Podium recognizes a SketchUp standard material name, it will assign the Podium properties that are defined in the materials.csv file. For example, the brick_antique material in the SketchUp Brick and Cladding category is assigned a bump value of 80, automatically.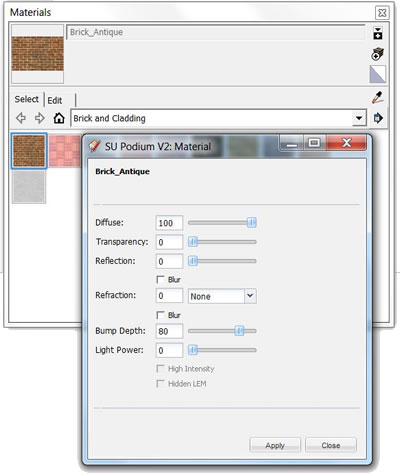 What are SketchUp standard materials?
Automatic materials only work with SketchUp standard materials. These are the .skm texture files found in the SketchUp materials browser. These are the materials that come standard with SketchUp. There are several categories of SketchUp materials.
Note: The .skm files are compressed .jpg texture files that are located in the \Google SketchUp 8\Materials\ folder.
Automatic material properties do not get saved to your model
Automatic material properties do not get saved to your SketchUp model. You can easily tweak the automatic material property settings or save the settings permanently, by click on the Apply button in the Podium material dialog. Once you click Apply, the Podium properties will be saved with the textures in your model.
Turn Automatic Materials off if you do not want them
If you prefer to assign your own Podium photo-realistic properties to SketchUp standard materials, you can turn Automatic Materials off. Open the Options dialog and select the Environment tab. Check off the Automatic Material box.
Imported materials do not have automatic materials
Very often, you will want to use higher resolution textures than what is available in the SketchUp standard material categories. For this reason, Cadalog has made available free texture libraries in the SU Podium Browser. However, these textures do not have automatic materials assigned to them. You will need to Apply your own Podium properties to any texture/ material imported into SketchUp. In fact, many 3D Warehouse models that you will import will not have SketchUp standard materials. Furthermore, the Podium Materials in the Paid section of SU Podium Browser do not have automatic materials assigned to them.
Textures on reverse or back side faces
As with all materials in Podium, it is a good practise to place the material on the front side of a SketchUp face. Click to read about Front Side (Normal side) and Reverse side (Back side).
---