Quick Tip - How to delete SU Podium temporary files (Windows)
Timestamps: Use the following links to jump to a specific topic
00:00 - Intro/explanation
Summary — Every time you press the render button, SU Podium saves temporary files to your hard drive. Depending on the size and complexity of your SketchUp models, these temporary files could total up to a few hundred megabytes for each render, and can quickly add up to many gigabytes worth of data.
Check the following folder locations on Windows to find and delete SU Podium temporary files. Note — you need to show "Hidden Files" to locate the ProgramData and AppData folders on your Windows machine.
Current location of SU Podium V2.6 temporary files:
Podium temporary files are within a hidden directory on Windows. Switch to the view tab, and check the box to show hidden files. Then click through the folder path shown below. Once you find the PodiumTemp folder, you can delete all the subfolders found within (pictured below).
Folder path:
C:\ProgramData\SketchUp\SketchUp 20xx\SketchUp\Plugins\PodiumTemp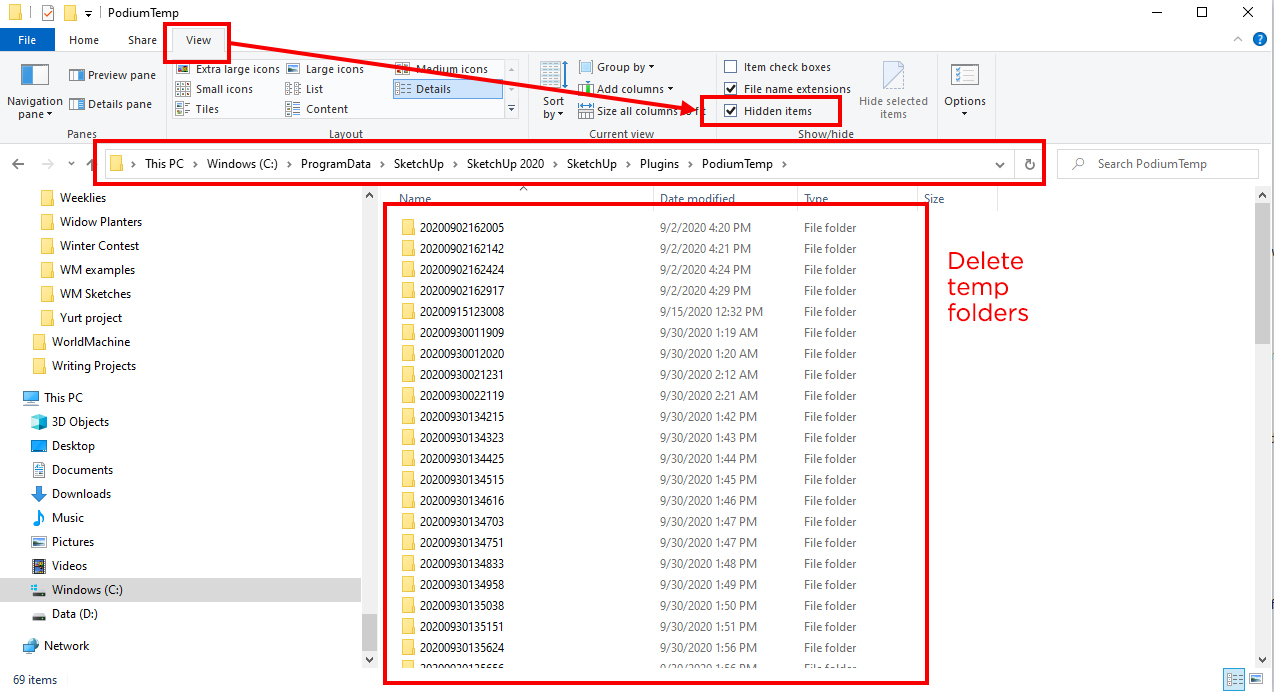 ---
Location of temporary files for SU Podium V2.5 and early SU Podium V2.6 releases
SU Podium V2.5, and very early V2.6 releases stored temporary files in a different location. Check the folder shown below for additional temp files if you have used earlier SU Podium versions on your computer.
Folder path:
C:\Users\Username\AppData\Local\Temp\SU_Podium_V2